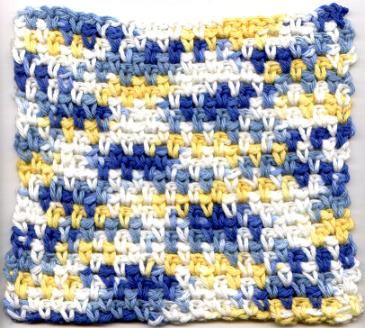 Woven Stitch Dishcloth
This dishcloth works up fast and easy.
It can also be used for a baby afghan by following the pattern and working your foundation chain in multiples of 3 + 2.
Materials:
H Crochet Hook
Worsted Weight Cotton Yarn

Foundation Chain and Row 1: Ch 29, turn. Skip 1st 2 ch, sc in next ch, *ch 1, skip 1 ch, 1 sc in next ch. Repeat to end. Ch 2 and turn.
Row 2: *Sc in ch space of previous row, ch 1, repeat to end and do 1 sc in turning ch 2 space. Ch 2 and turn.
Repeat Row 2 for a total of 25 rows and ending with out the last ch 2. Fasten off and weave in ends. I seal my ends after woven in with a drop of "Aleene's OK To Wash It". This way it won't come unwoven after washing and the glue stays soft, not hard when dried.